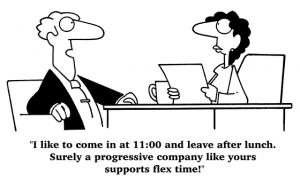 Back when Engineer Blogs was still just a young and innocent babe, waiting for loving hands to write upon its empty pages of life that still lay before it, I put down a few words regarding Transistor Interview Questions. A gracious reader named Phil was kind enough to pen his thoughts in the comment section, even going so far, and humbled am I that he did, to ask for advice not only regarding interviewing tips, but also, I presume, an open-ended general appeal of counsel for, as he describes himself, "an aspiring analog designer". I promised Phil that I shall in a future time write another post responding to his entreaties; that time has come.
Let me tackle the first of the two inquiries — interviewing tips — not because it is easy, but because it is hard, thus necessarily bounding the size of this post with my limited wisdom. Frankly, I've never systematically collected my thoughts on the issue despite having started my interviewing experience for technical jobs ever since my first year as an undergraduate student. Hence, the most that I can offer is to advance my own singular method of preparing for interviews, which has invariably modified itself over the years. But I shall do my best to recall my previous, and what I consider to be my best, performance. It was my best because it was also my most desperate, being at the time income-less. I think it helps to have a sense of desperation and urgency, just enough so to drive you forward, but not so much as to make you paralyzed with fear.
In preparing for the interview for my current position of employment at FluxCorp, the first thing that I did was to research the company, its products, and to work the grapevine to see if I can ascertain any more details beyond the vagueness of the job description. This allowed me to focus my preparations. I then re-visited all of my text books to ensure questions of a fundamental nature would not leave me trapped in a downward spiral of blabbering uncertainty. This meant reviewing transistors, basic circuit structures, feedback theory, signal processing, and upon completing that, re-familiarized myself with more complex circuit structures. I then glossed each line in my resume and made sure that I can successfully backup those claims. If I wrote that I worked on a VCO, I made sure I knew how to draw the circuit, what the trade-offs were, and why I settled on such a design. I found that it helped a lot trying to describe things I've done in the past back to myself. Next, based on what I did upfront in researching the job, I went to the local university to research topics in which I knew I had gaps. I read tutorials. I read papers. I read more papers. A day before the interview, I went online to research some stock answers to "soft" questions as well as to prepare my own versions. Last, right before I left my car to walk into the building, I closed my eyes and visualized how the interview would turn out. I visualized myself being confident, acting confident, and giving thoughtful, well-presented answers. Then, it was show time!
I think I've rambled on long enough about this. Pardon me as I leave the second of the entreaties — advice for an aspiring analog designer — for a yet unspecified time to come. But let me close with one last thought. During the interview, everyone wants to come across as knowledgeable, and I think it's OK to toot your own horn. But be careful about over-reaching, lest the interviewer runs with your imprudent comment, leaving you floundering above an empty foundation.