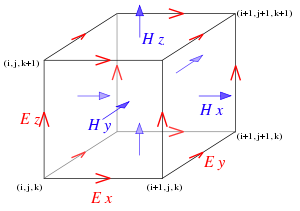 This week's theme at Engineer Blogs is our favorite class. While the notion of ever sitting in a class again (except something fun, like a foreign language) makes me want to gouge my hand out with a dull pencil coated with hydrofluoric acid, I do have a lot of fond memories of classes I was in.
My favorite class was one I took as an undergrad. I heard from a classmate that a professor was going to be teaching a class on numerical techniques in electromagnetics. I had attempted to take a class on computational methods in physics, but that didn't go so well.  I talked to the professor, who was from electrical engineering, and he said that my physics class in electromagnetics would be sufficient preparation for the class.
The content just blew me away, in a good way.  The course covered different algorithms one can use to model electromagnetic phenomena such as finite difference-time domain (hence the Yee cell at the top of the page), finite element method, variational methods, etc.  Not only did I learn a bunch of algorithms, but having to program things with these methods also gave me a lot exposure to different concepts in electromagnetics.  We also were introduced to various types of free and commercially available electromagnetics software.
I won't say it was easy.  On the contrary, it's one of the hardest classes I've ever taken.  I was a senior physics major taking a 700-level grad class in a department with a much different focus.  More than once, I wondered if I was crazy.  The math was intense, drawing on a lot of knowledge from some of my more advanced applied math classes.  It involved programming in a couple different languages and facing a steep learning curve on software packages.  I really panicked when the first test included a problem, worth a quarter of the points, on transmission lines; electrical engineers cover this in their junior level electromagnetics course, but we never saw it (the way electrical engineers tend to approach it) in physics.  The homeworks were rather intense, and the exams, which were take-home, were usually grueling marathon-type things.  You worked pretty hard for the grade, but all of it was so involved and in-depth that it has stuck with me for a long time.
Most surprising about the class is that I thought that I could only learn these things in physics.  The class completely changed my perception of what engineering is.  I had no idea that modeling was a very integral part of many branches of engineering.  There are some obvious differences between engineering and some branches of science: in engineering, you generally try to create and test out something using a model, whereas in science, you are often using modeling to verify your theory about a particular phenomenon or process that's already been observed.  Engineers generally have to validate their model by building a device and measuring it, whereas many times scientists have data with which to confirm their model.
I'll admit that I'm not that great at the building part because of my Pauli effect.  (More often than not, I am asked to leave the lab because someone's project started acting up when I came in.)  However, I did find out that I could actually be an engineer doing something that I thought only scientists did.  While I learned an enormous amount of academic content in the class, I think that realization that engineering also held a lot of interest for me made the class worthwhile.