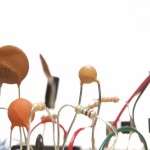 As someone who has been tinkering with electronics for some 30 years, I've seen a few changes to electronics and the effect on the embedded system design. Once there was a time when I was soldering in Z80s (an 8-bit microprocessor), PIOs (programmable input/output) and RAM chips as well as erasing EPROMs in a UV box. However, I question if today's engineers have lost touch with the changes and the basic principles of electronics.
Back when building my Z80 systems, it was normal to be making a embedded system, rows of Eurostyle cards all lined up. Now we have moved forward into the world of system-on-a-chip; Atmel, Microchip and tons more all have all you need on a single chip. There are even more new trends starting to appear, like the mbed and Arduino systems. A lot of the hard work of designing and setting up a system-on-a-chip is now hidden behind these well-written libraries and pre-manufactured hardware. I personally love the mbed and Arduino because they are really good at allowing me to quickly prototype designs and test ideas. However, I'm a PIC programmer in my day-to-day job, so I work at what I would call a lower level: that is, accessing the registers directly and writing my own library routines.
This and the current 555 contest has made me realize that new engineers may not be learning some of the core basics. I mean, when did we last consider using a 555 in a circuit or work out the logic for driving a 7-segment display? I'm guessing not often as we can all to easily do this in a single chip – a micro.
My concern is that as we move forward, our new engineers will expect pre-written libraries that access an I2C or SPI without consideration of the core function and how it works. Will these new engineers still understand the purpose of a Stack, a Heap, or how an interrupt is processed?
I would guess many people will say that it's like asking me if I really understand how a transistor works at its core. I'd have to say no. When I look at Fluxor's blog about transistor interview questions, I fail big time. So maybe this route forward will just make designing new products quicker, taking the headache out of design. But I do feel sad that we are leaving behind some of the basic circuits I built as a kid – I so long for the smell of an over-cooked EPROM in the UV box!