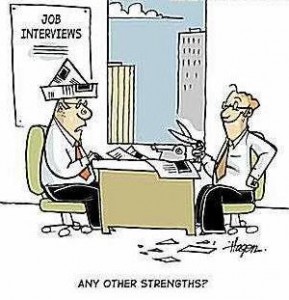 Last week, I wrote about an interview with a disappointing candidate that was applying for a analog IC design position with FluxCorp. Although he wasn't able to answer many questions regarding his own past designs (or alleged designs), I still thought it necessary to give him a chance by moving to more basic questions, like the transistor. In my opinion, these questions are not difficult. If one bothers to prepare for an interview like this by flipping through some old text books, these questions should be a breeze. Unfortunately, the candidate (let's call him Mr. Flop) in question failed horribly, which illustrates a few things. First, he doesn't know how to prepare for an interview. Second, he has not internalized undergrad material in his brain so that he can claim to be qualified to be an analog IC designer. Third, he grossly overstated his abilities on his resume. And I'm already being quite charitable here.
The questions I'm going to outline below are ones which I've encountered over the years both being interviewed as well as interviewing others. So here goes.
1. Draw me a transistor symbol. You can go with BJTs or MOSFETs. And you better name the terminals correctly. I didn't actually ask Mr. Flop this question. I thought he didn't need to be asked such a simple question with five yeras of experience under his belt. I should have. At least he would've gotten this one right….maybe. If you can't get even this one right, you're not getting hired.
2. Draw me a transistor I-V curve. There are typically two you can draw, but the one I'm showing below is the most common. From left the right, the curve moves up linearly and then flattens out, but still with a small upward slant. It's important you draw the upward slant. If you draw a horizontal line with no upward slant, it's a sure sign you're going from memory of an idealized text book transistor. Mr. Flop first drew the plot without the upward slant. After I gave him a puzzled look, he corrected himself.
3. The small slant upward is important because I often ask, as a bonus question, what is the Early Voltage. If you extend the slanted lines linearly all the way to the left, theoretically, they all converge at a point on the x-axis. The point of covergence is called the Early Voltage, often denoted as VA. I didn't actually ask Mr. Flop about the Early Voltage quite yet, but he did draw out the diagram below when I was asking him about the transconductance of a transistor, or gm. He also labeled the convergence point correctly as VA, but couldn't tell me it was called the Early Voltage. He never did figure out gm from the plot below; the reason being he was using the wrong plot.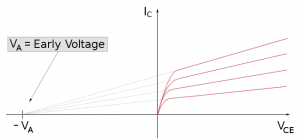 Early Voltage Derived from an I-V curve of a BJT
4. What transistor parameter can one derive from the plot in question 2? There are a few things one can determine from such a plot. One is the linear region vs. the saturation region. For MOSFETs, the linear region is the left side of the plot where the slope is steep; the saturation region is the right side of the plot where the slope is shallow. But I'm looking for a parameter, not definitions. Specifically, I'm looking for you to tell me that the reciprocal of the slope of the plot in the saturation region, where I've drawn a little dy/dx ramp, is the output impedance of the transistor. And if you are able to say that it's usually written as an admittance and denoted as gds in MOSFETs, you get lots of extra kudo points. Mr. Flop was unable to tell me any of this stuff.
5. Tell me about the gm of a transistor. I hope you'll say that it's the transconductance of the transistor. And if I ask you what is a transconductance, I hope you say it's the transfer function of output current to input voltage, or to put it another way, an input voltage to output current gain. Mr. Flop was unable to answer this question. However, he did voluntarily tell me that increasing the W/L of a transistor lowers its gm, which is exactly backwards.
6. After describing gm for me, I want to know how gm can be determined. If you write out an equation, that's fine, but I'd rather you tell me graphically how it's done. The plot below shows an plot of drain current (Id) versus gate-to-source voltage (Vgs) of a MOSFET. Assuming you've biased the transistor at a certain Vgs, shown by the red vertical line, then the gm is simply the partial derivative of Id with respect to Vgs. Graphically, it's the slope of the green line. Mr. Flop couldn't even begin to answer this question.
7. To test you how BJTs and MOSFETs are typically constructed, if you took a BJT and flipped it upside down so the emitter and collector connections are reversed, does it matter to the transistor's operation? What if it was a MOSFET and the drain and source terminals are swapped? As all good text books do, I'll leave this as an exercise for the reader. Let's just say I never got far enough in the interview with Mr. Flop to ask him this question.
8. Finally, I want to know if you can draw an IC layout of a transistor. You can choose BJTs or MOSFETs, but MOSFETs are more common and simpler. I hope it looks something like below.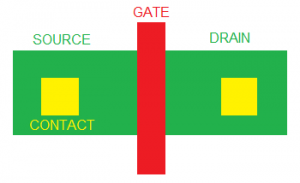 MOSFET Layout
So there you go. Eight likely transistor questions on an interview for analog IC designers. Of course, there are many, many more that I can ask depending on your experience level. But if you don't know the answers to the questions above, please, take an hour or two before the interview and prepare.
Got any favourite interview questions? Leave a comment. I'd love to hear about them.
[xyz_lbx_default_code]