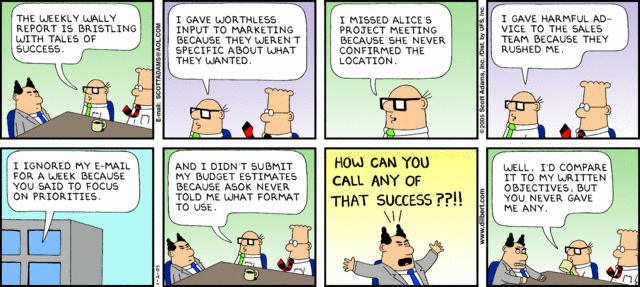 Earlier this week, the discussion around the lunch table at work was on how you define success – and what are the units of measure? Setting aside the inherent nerdiness of this conversation (I work in a nerdy lab in arguably one of the nerdiest schools in the US, so I have come to embrace the constant wash of technical discussions), it was an interesting topic.
As a PhD student engineer, there might be several units of success. For someone heading into academia, units of success might include:
– number of papers published
– quality of publication record (impact factor, etc.)
– grants and proposals written
– undergraduate students mentored
– conferences attended
But if you are not headed into academia (I'm not), those things don't really matter as much. Of course I want to publish papers, but I don't have to worry how my record is going to stack up in a tenure review. Quite honestly, my units of success as a grad student at the moment are:
– number of months to graduate
– quality of connections made while in school
But what if you are not in academia at all? What if you work in industry? There, your unit of success might be completely different. We talked about keeping track of your work as an engineer, and part of why it's important to keep track of what you do is so that you know when you are done, and if you've done a good job (and that you can prove the above to your boss!). So maybe you care about:
– annual performance review
– end of-the-year bonus, or pay raise
– promotion or title
– bugs fixed or code reviewed
– circuits designed or parts produced
– meetings attended or cups of coffee consumed…
But there you run into problems as well. Some engineers may not care if they get promoted, because a step up means becoming a manager instead of staying in the technical details. And some people may not count their salary as a measure of success, because it's not personally important to them. And if we consider personally important units of success, then it's a whole other list, because above just being an engineer we all have broader life goals. I'd love to measure things like:
– exercise per week
– meals cooked at home, instead of takeout
– time spent with friends
– side projects to enjoy
– hours of sleep (bonus for naps!)
None of which contribute to my career (at least directly), but all of which I consider a personally relevant measure of success.
And of course, in all this discussion, I'm not touching how to define IF you are successful, or how MUCH of any measurement unit you need to be successful. Everybody's definition of success is different; I'm just asking – if you wanted to evaluate your success, particularly as an engineer, what is your unit of measure?